IIoT
LoRa based IIoT Network Solutions
LoRa technology currently creates the biggest waves in the realm of Industrial Internet of Things Solutions (IIoT). LoRa's success is based on its main advantages:
support of a large number nodes in the network
very low power wireless communication
wide area coverage
secure communication
a choice between capex (Private Network) and/or opex (Provider Network) implementations
Texim Europe offers all elements (HW & SW) to create and support a LoRa based IIoT Solution optimally designed for your business case. This page and our demonstration on the
embedded world 2018
exhibition in Nuremberg show some of our capabilities.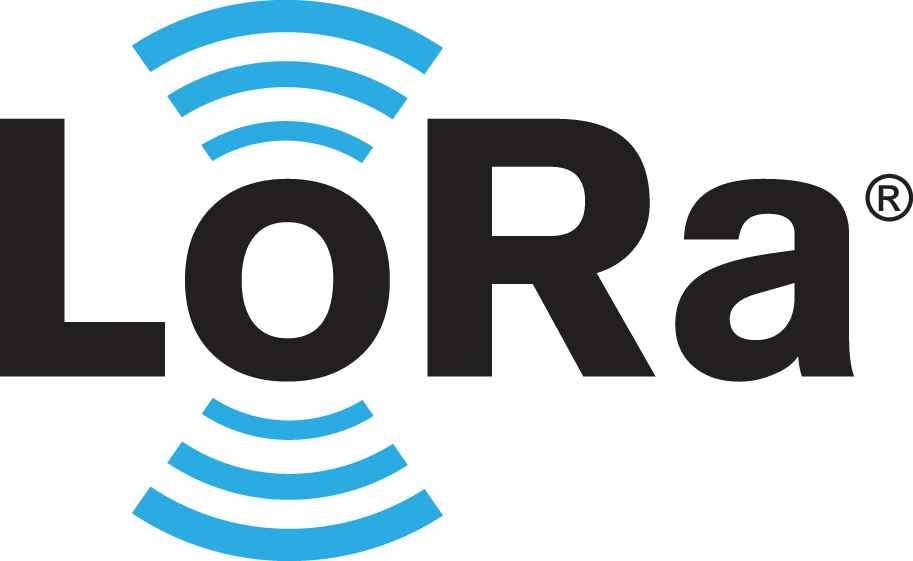 Please contact us to discuss a bespoke solution targeted at your specific requirements.
Contact us
Architecture options
Below table lists some differences between typical LoRa Network architectures on some main aspects to be considered. Hybrid models between Private infrastructure and Provider based solutions are also possible.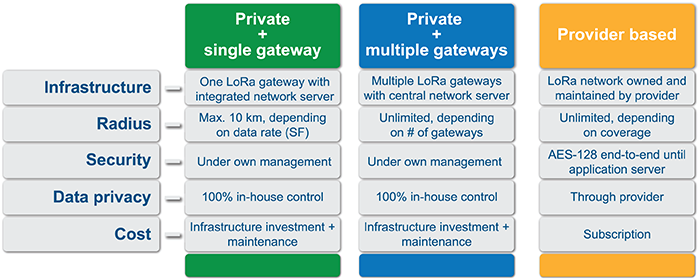 End Devices
LoRa end devices with integrated sensors

Fully functional LoRa nodes with sensors already included

LoRa end devices with Sensor I/Os

Fully functional LoRa devices with connection possibilities for sensors/ actuators

LoRa modules to integrate with sensor devices

Modules enabling easy development of customised sensor applications with LoRa connectivity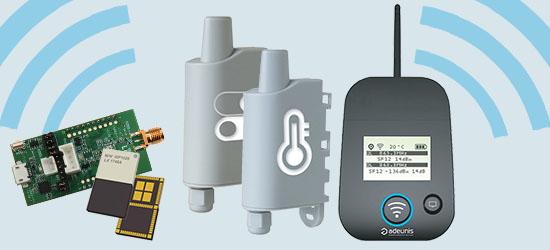 LoRa Gateways/ Servers
The gateway sets up the LoRa connection with the LoRa node. The right gateway together with optimal placement, wireless radio, and antenna is crucial for a stable and secure connection within the IIoT application.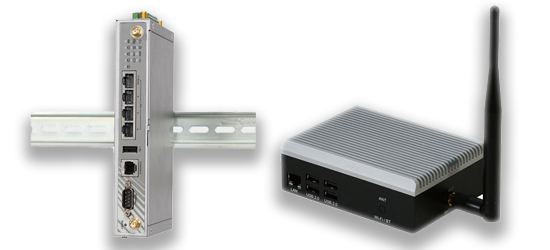 In a single gateway set up it is possible to also run the LoRaWAN server on the same device. The
AAEON LoRa Gateway
is powerful enough to run both packet forwarder and LoRaWAN server.

For multiple gateway architectures the LoRaWAN server needs to run on a separate central HW platform in order to properly manage the LoRa network. There are very many options for server HW.
Please check
here
which product matches your requirements. Call us anytime for assistance as there are many more options than we can show on our web site.
Networking equipment
To establish more complicated wired or wireless communication network environments you may need routers and (managed) switches.

Please check here for options: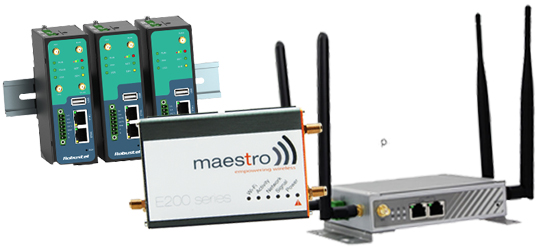 Platform choice
Another important decision to be made is the implementation of the IoT SW platform. There are many possibilities and offerings ranging from freely available tools, through PaaS (Platform as a Service) models up to perpetual licensed platform solutions.
To establish a complete
Private
LoRa IoT platform solution the following SW elements should be configured in any case:
Packet forwarder - on every gateway in network
LoRaWAN server - on separate HW platform or integrated on gateway (single gateway networks only)
Other SW elements need to run on a separate server platform (or in the cloud):
Protocol translation (i.e. MQTT or HTTP server)
Data handling/ Visualisation
Time series database
Analysis/ predictive maintenance SW
This can be implemented by using freeware, through a Platform as a Service (PaaS) arrangement or license/ subscription based SW platforms.
Freeware
options are for example: Mosquitto for MQTT server, Node-Red and Grafana for data handling/ dashboard and InfluxDB for time series database.
Texim Europe offers a Platform as a Service option called
RESIOT
. Please contact us to discuss
available options.
Contact us
Finally there are many licensed or subscription based IoT platform solutions like Thingworx, Microsoft Azure, IBM Watson and Amazon AWS to name but a few each with their own features and advantages.
LoRa / IIoT Solutions
LoRa sensors and devices
title
Low power and battery operated LoRa and Sigfox sensor devices, pulse input devices and field test devices.
LoRa node
title
Develop your own tailored LoRa node. The node enables developers and system integrators to easy develop their own application with LoRa connectivity.
LoRa/3G/GPS trackers
title
Autonomous devices for geolocation applications on LoRa/LoRaWAN network.
LoRa/LoRaWAN gateway & network servers
title
LoRa/LoRaWAN gateway & network server with Intel Atom x5-Z8350 CPU supporting connectivity protocols like LoRa, Bluetooth, WiFi and 3G.
Industrial Ethernet & PoE switches
title
Redundant & managed industrial switches with Power over Ethernet
DIN-rail AC/DC power supplies
title
DIN rail power supplies available in 15, 30, 50 and 100W, with choice of 12-15, 24 and 48VDC outputs.
Industrial wireless gateways for IIoT applications
title
Industrial wireless gateways with multi WAN & connectivity suitable for a variety of protocols and security options.
Compact embedded BOX PCs with rich functionality
title
Slim, palm-sized, fanless BOX PCs with Intel Celeron J1900/N2807 CPU providing adequate computing power capabilities
All-in-one industrial touch Panel PCs
title
12.1 to 21.5 inch industrial all-in-one panel PC with PCAP & resistive touch options, enhanced thermal management system and full I/O port support.
Compact industrial panel PCs
title
10.1 inch Intel Celeron N2930, fanless industrial compact size panel PC with PCAP touch in aluminium casing.
Industrial rugged IP65 tablets
title
Rugged indutrial tablets compliant with MIL-STD-810G and IP65 rating. The RTC Series can withstand a variety of harsh conditions; such as water, vibration and shock, and extreme temperatures.
Control component series and signal lamps
title
Control components and signal lamp series distinguished by its diversity and modularity
IP Security cameras
title
Super HD IP PoE security camera, 4MP, 2560x1440
Contact us
Do you have a question or want to get in touch with us?
Send a message or contact us through one of the other channels. We will contact you as soon as possible after receiving your message.
Show offices